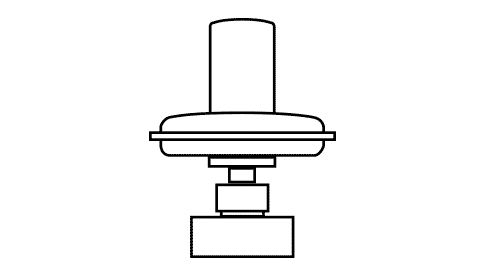 VALVES
Used in mainly low-pressure systems, such as oil and water dumps on low-pressure separators, heater treaters, and free water knockouts. Well suited for On/Off situations or throttle control.
Model P4000
Mechanical Dump Valve
The BelGAS CP P4000 series is a mechanically operated dump valve for use with a P8000 trunnion assembly or other float operated lever to which the valve is connected
Applications
Low Pressure Separators
Throttling or Snap Action Services
Heater-Treater Applications
Features
Simple Maintenance: Valve trim can be quickly changed without removing the valve from the line. Simply loosen the bolts to lift the bonnet and housing free of the body.
Body Pressure Monitoring Tap Options: The body is designed so the customer can choose which pressure monitoring tap option they prefer. The standard option has the supply side tapped. However, customers can choose to tap the out port side, neither side, or both sides.
Signal (Pilot) Port Orientation Option: Customers can decide which orientation for their signal (pilot) port best suits their needs. This allows for greater accessibility to the signal (pilot) line from any one of four directions.
Specifications
Operating Pressure

250 PSIG

Working Pressure
300 PSIG (Max)
Temperature Range
-20° to 200°F (-29° to 93°C)
Shutoff Classification
ANSI Class VI per ANSI/FCI 70-2-2013

SPEC SHEET
BelGAS CP Model P4000 Mechanical Dump Valve