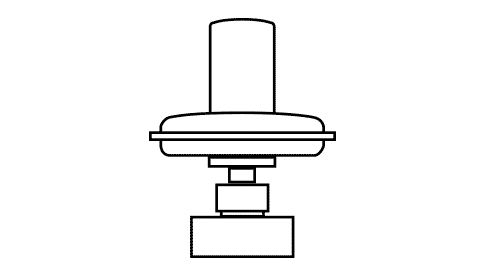 VALVES
Used in mainly low-pressure systems, such as oil and water dumps on low-pressure separators, heater treaters, and free water knockouts. Well suited for On/Off situations or throttle control.
Model P7200PB
Piston Balanced Control Valve
The BelGAS CP P7200 Piston Balanced series valve is a pneumatically operated open yoke control valve. The P7200 Piston Balanced series is designed to control a variety of fluids at pressures up to 4000 PSIG in high flow environments.
Applications
•High pressure/High flow dump valves
•Pressure/Flow control applications in high pressure and high flow environments, when used with a pressure pilot

Features
•Open Yoke Design: The open yoke allows for the position of the stem to be visible during use from any angle. An I/P or electro-pneumatic positioner can be mounted to the actuator
•Field Reversible Actuator: The actuator is capable of withstanding up to 45 PSIG and can be switched between "Fail Close" to "Fail Open" with no additional parts. 15 PSIG, 20 PSIG, and 30 PSIG springs are available for a range of applications.
•Trim Variety: Trim combinations are available for a variety of situations. The trims are available in both 17-4 NACE options, and hardened tool steel standard options. They come in two sizes to best control flow options, and the paired seal rings are available in HSN, AFLAS, and Teflon.
•Piston Balanced Design: Cage guided, and pressure balanced trim allows for high flow and high pressure operation.
•Sour Gas Service: NACE MR0175 compliant materials are available to ensure functionality in sour gas applications