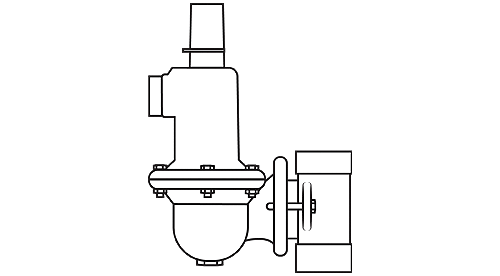 REGULATORS
Self-contained devices to monitor or control upstream or downstream gas pressure on vessels, sales lines, and supply lines.
Model P99
Gas Pressure Reducing Regulator
The BelGAS Type P99 gas pressure reducing regulator provides a broad range of controlled pressure ranges and capacities for use in a variety of distribution, industrial, and commercial applications.
The regulator's high accuracy keeps constant inlet pressures to downstream equipment by accurately controlling distribution system pressures at widely varying flow rates and supply pressures. The device also eliminates the need for pressure-compensating meters by holding a steady pressure to the meter inlet.
Features:
Minimizes sudden downstream load changes
Wide pressure range
No atmospheric bleed
High accuracy
Tight shutoff
Easy to maintain
Applications:
Natural gas distribution systems
Gas supply to industrial boilers, furnaces, ovens and mixers
Plant air service
Oxygen and ammonia service
Large commercial establishments such as shopping centers and schools
Max allowable
inlet pressure / drop PSIG / BAR
Min differential for full stroke PSIG / BAR
Recommended disk material
Max Orifice Size
Notes
25 / 1.7
0.75 / 0.05
Nitrile or Fluorocarbon Disk
1-1/8"
Can use 1/2" through
1-1/8"
50 / 3.4
1.5 / 0.10
Neoprene or Fluorocarbon Disc
1-1/8"
Can use 1/2" through 1-1/8"
150 / 10.3
3 / 0.21
Nitrile, Neoprene or Fluorocarbon
1-1/8"
Can use 1/2" through
1-1/8"
250 / 17.2
3 / 0.21
Neoprene or Fluorocarbon O-ring
7/8"
7/8" and 1 1/8" only
sizes for O-ring seat
300 / 20.7
10 / 0.69
Nylon Disk, Nitrile O-ring
1-1/8"
1-1/8" only available size
for 300 inlet pressure
400 / 27.6
10 / 0.69
Nylon Disk
7/8"
7/8" and 1-1/8" only
sizes for O-ring seat
1000 / 69.0
10 / 0.69
Nylon Disk
1/2"
1/2" only available orifice
for 1000 inlet

SPEC SHEET
BelGAS CP Model P99 Gas Pressure Reducing Regulator