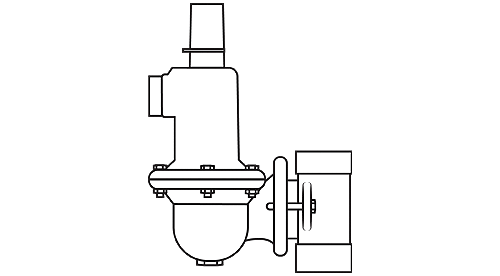 REGULATORS
Self-contained devices to monitor or control upstream or downstream gas pressure on vessels, sales lines, and supply lines.
Model P200
Gas Pressure Regulator
The BelGAS P200 gas pressure regulator is a manual, direct acting, self-operating, spring loaded adjustable regulator, used in applications where pressure reduction is required.
Its robust construction, including an internal relief valve, allows the regulator to reduce the risk of "shock" from abrupt changes of downstream conditions. This can help prevent safety equipment from prematurely shutting an operation down, resulting in unwanted and costly downtime.
Available in both relieving and non-relieving versions, BelGAS Type P200 pressure regulators allow for high-accuracy regulation of pressures ranging from 2" of water column up to 10 psig, making them ideal for use in applications where wide variations in pressure reduction are also required. The BelGAS Type P200 is offered with choice of ductile cast iron or WCB steel body, both with a lightweight aluminum bonnet.
With available port sizes of 1.25 NPT to 2 NPT, and orifice sizes from ¼" to 1-3/16", BelGAS Type P200 units may also be used as cost-effective drop-in replacements for competitive units, as they occupy an identical footprint to other industry models. They are designed to reliably operate over a temperature range of -40˚F to +200˚F (-40˚C to +93˚C), and are also available in a variety of spring range pressures and colors.
Features:
Minimizes sudden downstream load changes
Wide pressure range
P202 has internal relief valve for overpressure protection
Applications:
Compressors
Gas Engines
Service Regulators
Specifications
Maximum Inlet
See Table
Maximum Emergency Outlet
15 PSIG
Pressure Ranges
See Table 2
Port Sizes
1.5", 1.5", 1.5 x 2", 2" NPT
Orifice Sizes
1/4", 3/8", 1/2", 3/4", 1", 1-3/16"
End Connections
150 RF Flange Steel Units Only | 125 FF Flange Iron Units Only
Temperature Range
-20˚F to 180˚F

SPEC SHEET
BelGAS CP Model P200 Gas Pressure Regulator