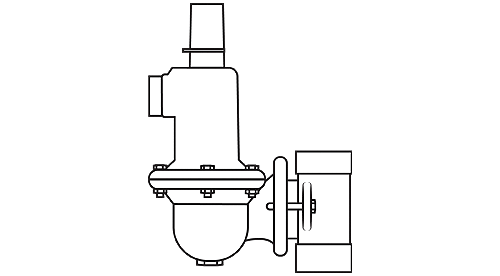 REGULATORS
Self-contained devices to monitor or control upstream or downstream gas pressure on vessels, sales lines, and supply lines.
Type P40
NACE Compliant Natural Gas and Propane Regulators
Ruggedly designed and constructed, the regulators have housings of diecast aluminum. The P40 Regulator is finished with vinyl paint (which resists scratching, weathering & other physical abuse), while the P40 NACE is supplied with an epoxy paint for added corrosion protection. Both the P40 and P40 NACE, are pressure and leak tested prior to shipment from the factory.
Features:
Superior regulation characteristics
Rugged, corrosion-resistant construction
Economical
Self-relieving
Standard tapped vent
Excellent stability and repeatability
Soft relief seat on P40
Several mounting options
Applications:

Instrumentation and general purpose use in both standard (P40), and corrosive environments (P40 NACE).
P40 Regulator
P40 NACE Regulator
Sensitivity
1" ( 25.4 mm) Water Column
1" ( 25.4 mm) Water Column
Flow Capacity
20 SCFM ( 565 LPM)
20 SCFM (565 LPM)
Effect of Supply Pressure variation (25 PSIG) on Outlet Pressure
< 0.2 PSIG (0.01 BAR)
< 0.2 PSIG (0.01 BAR)
Exhaust Capacity (5 PSIG above 20 PSIG set point)
0.1–0.45 SCFM Typical (2.8–12.7 LPM)
0.1–0.45 SCFM Typical (2.8–12.7 LPM)
Maximum Input/Supply Pressure
250 PSIG (17.2 BAR)
250 PSIG (17.2 BAR)
Effect of Changes in Flow on
Regulated Pressure (100 PSIG/6.9 BAR Supply)
4 PSIG ( 0.3 BAR) over flow 10 SCFM ( 283 LPM)
(1⁄4 NPT, 20 PSIG / 1.4 BAR set point)
4 PSIG ( 0.3 BAR) over flow 10 SCFM ( 283 LPM)
(1⁄4" NPT, 20 PSIG / 1.4 BAR set point)
Output Pressure Ranges
0-10 PSIG (0-0.7 BAR), 0-35 PSIG (0-2.4 BAR)
0-60 PSIG (0-4.1 BAR), 0-120 PSIG (0-8.3 BAR)
0-10 PSI (0-0.7 BAR), 0-35 PSIG (0-2.4 BAR)
0-60 PSIG (0-4.1 BAR), 0-120 PSIG (0-8.3 BAR)
Temperature Range
0 to 160˚F (-18 to 71˚C)
0 to 180˚F (-15 to 82˚C)
Total Air Consumption @ Maximum Output
0.1 SCFH (0.05 LPM)
6 SCFH (2.8 LPM)
Port Size
1⁄4 NPT
1⁄4 NPT
Size
2.5" X 2.5" X 5.63" (63.5 X 63.5 X 143 mm)
2.5" X 2.5" X 5.63" (63.5 X 63.5 X 143 mm)
Weight
0.82 lb. (.37 kg)
0.82 lb. (.37 kg)

SPEC SHEET
BelGAS CP Type P40 NACE Compliant Natural Gas and Propane Regulators