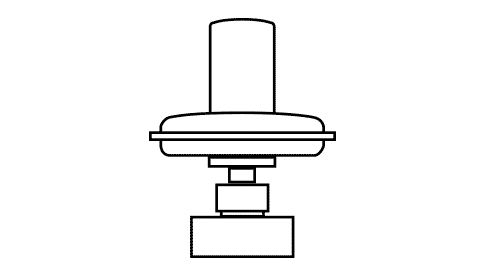 VALVES
Used in mainly low-pressure systems, such as oil and water dumps on low-pressure separators, heater treaters, and free water knockouts. Well suited for On/Off situations or throttle control.
Model P4200
Treater Valve
The BelGASCP P4200 series is an oil or water valve designed to withstand severely corrosive mediums associated with
the oil and gas industry.
Applications
• Heater Treater
• Water Knockouts
• Gun Barrels
• Salt Water Disposal Systems
Features
• Simple Maintenance: The valve trim can be quickly
changed without removing the valve from the line.
Simply loosen the bolts and hex nuts to lift the bonnet
and housing free of the body.
• Signal (Pilot) Port Orientation Option: Choose from
several different orientations to best suit your
application needs.
• Trim Option: Customers can decide from nitrile and/or fluorocarbon elastomer options.
• Cage Material Option: Customers can decide between
a carbon steel cage and ratio plug or acetal cage and ratio plug.
• Trunnion Hub/Shaft D-Key Feature: The P4200 features a "D" shaped hole in the trunnion hub with a "D" shaped
trunnion shaft. This feature allows for ease of maintenance and assembly.
Inlet Pressure Rating
125 PSIG (Max)
Assembled Valve Temperature Range
-20˚ to 200˚F
(-29˚ to 93˚C)
Shutoff Classification
ANSI Class VI per
ANSI/FCI 70-2-2013
Air Pressure To Signal (Pilot)
125 PSIG (Max)

SPEC SHEET
BelGAS CP Model P4200 Treater Valve