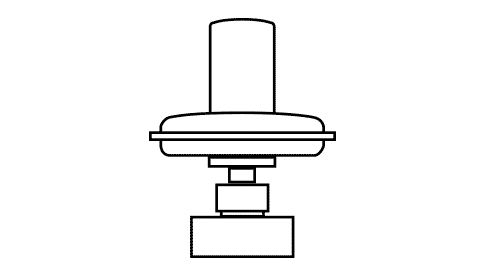 VALVES
Used in mainly low-pressure systems, such as oil and water dumps on low-pressure separators, heater treaters, and free water knockouts. Well suited for On/Off situations or throttle control.
Model P4500
Diaphragm Balanced Motor Valve
The BelGASCP P4500 series is a diaphragm operated dump valve for control of low pressure water or oil where 10 PSIG minimum pneumatic signal is available.
Applications
• Separators
• Meters
• Water Knockouts
Features
• Diaphragm Balanced Single Seat
• 10 PSIG Minimum Pneumatic Signal
• Simple Repair and Maintenance
Specifications
Operating Pressure
125 PSIG
Working Pressure
400 PSIG (MAX)
Operating Temperature
225°F (107°C) (Max)
Supply Pressure
10 to 35 PSIG
Trim Size 2" Line Size
1.50"
Cv 2" Line Size
23.3
Shutoff Classification
ANSI Class VI
per ANSI / FCI 70-2-2013

SPEC SHEET
BelGAS CP Model P4500 Diaphragm Balanced Motor Valve